Home
>
Knowledge Base
>
General
>
Do you offer two factor / dual factor authentication?
Do you offer two factor / dual factor authentication?
Yes, we offer two factor or dual factor authentication for logging into our cloud management portal. This is a feature that must be enabled company-wide (for all users). It is not possible to enable it for one user, but not another, because that could create a back-door. Upon successful implementation, a 6 digit code is sent via SMS to the mobile number of the user who is attempting to log in. The user will have 2 minutes to enter the 6 digit code to complete the login process, otherwise they will have to request a new 6 digit code as shown in the image below.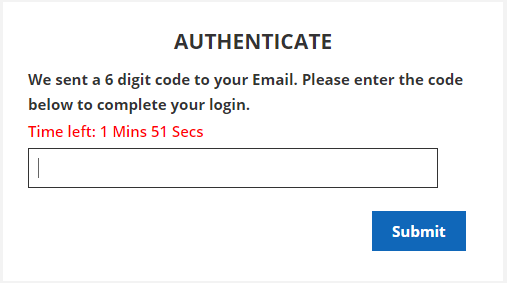 Two-factor authentication was added in the spring 2014 release and offers an additional layer of security to our customers who are concerned about hacking attempts to the cloud management portal. It should be noted here also that an account will lock-out after 5 failed log-in attempts to a known user name (email address) regardless of whether or not two-factor authentication is enabled. This is an added security measure in the cloud portal to prevent brute force attacks.
For more information, please see the Login & Security section of our online manual.
Other keywords: 2-factor, 2 factor, dual-factor, two-factor, multi-factor