We operate the only datacenter-independent global cloud platform. Our network uses Anycast technology, natively supports both IPv4 and IPv6 and is engineered for performance.
It's true. Total Uptime is not like any other cloud organization. Because our global network is truly datacenter-independent and network provider independent, we are more redundant and resilient than any other provider. This gives our customers the unprecedented ability to seamlessly build routing and failover configurations from one datacenter to another, regardless of who the underlying provider is.
Our cloud platform resides in 17 countries using hundreds of different network providers. This provides incredible performance, redundancy, scalability and capacity. Simply put, the network is designed to never go down. We route traffic for small businesses on up to some of the world's largest corporations.
---
SOC 2® Type 2 Audited Operations and Datacenters
Validating the resiliency and operational excellence of our cloud platform
The Service Organization Control (SOC) 2 Type 2 audit, developed by the American Institute of Certified Public Accountants (AICPA), is the most widely recognized authoritative guidance that provides service organizations a uniform method for disclosing independently assessed information about the design and operation of internal controls related to a company's services. It is a written and verified description of systems and controls relevant to security, availability, and confidentiality and affirms Total Uptime's commitment to our customers. Furthermore, all of the datacenters we use globally have the same level of achievement, and a few of them also have PCI DSS, ISO 27001, ISO 9001 and SSAE16/ISAE3401 SOC-1 Type II as well. This assures our customers that we take our business — and, more importantly, your business — seriously! Our Canadian datacenters also have the equivalent CSAE 3416.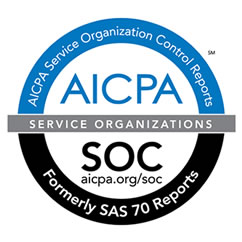 ---
Network and Transit Provider Redundancy
To ensure unprecedented reliability, redundancy and performance, we connect to almost every major global transit provider.
It is vitally important for our customers that we not only provide, but maintain 100% uptime. Connecting to leading network providers and peering exchanges that span the globe make this objective a reality. Through our underlying datacenter providers, we connect to respected transit providers including Level3, NTT, TeliaSonera, TATA, PCCW, Comcast, Time Warner, Telefonica, Telstra, Pacnet as well as hundreds (794 at last count) of peering partners and direct networks for the ultimate in premium, low-latency connectivity.
---
Anycast Architecture
Our global implementation of IP Anycast ensures no single point of failure across our network.
When selecting a cloud network provider for critical DNS or traffic routing applications, customers need complete assurance that their carefully vetted provider will improve the availability of their critical websites and applications, not degrade them or add a new single-point-of-failure, common among other so-called "cloud" providers. Our network architecture is such that every one of our global datacenters has identical infrastructure and real-time replicated configurations. By concurrently announcing the exact same IPv4 and IPv6 address blocks, Total Uptime has created a virtually indestructible network that helps organizations increase availability significantly. Learn about our Anycast Network
---
Dual Stack IPv4 and IPv6
Because IPv4 is near exhaustion and many global organizations are adding IPv6 every day, we have too!
IPv6 is alive and kicking. Many organizations have already deployed it across their networks, and others are working to deploy it quickly. We already run native IPv4 and IPv6 dual-stack across our network and in DNS which gives our customers the ability to immediately IPv6-enable by tunneling through our global cloud. In 5 minutes or less, your website can be IPv6 ready with our cloud load balancing suite.
---
Managed by our team in the United States
Call center in Atlanta, GA - Network Operations Center in North Carolina.
We provide all customer and technical support from our Network Operations Center (NOC) in North Carolina. We're here when you need us, 24x7x365. Not just by email or through our efficient case tracking system, but you can also speak to a real person by telephone, whenever you want, without limits — unlike some of our competitors. Reach out to us for help with deployment, configuration assistance, importing data or a critical issue, all at no additional cost. More about us and support
---