Home
>
Manual
>
Account Admin
>
Alert Lists Tab
>
Edit Alert List
Edit Alert List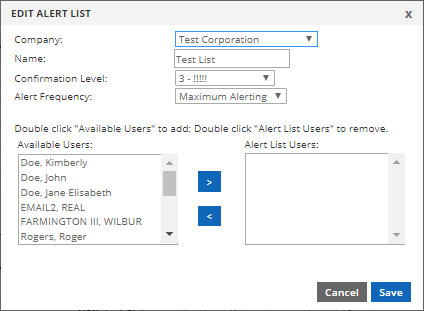 Company:  The company or sub-company the list is available to.
Name:  The name for your alert list.
Confirmation Level:  Use this setting to choose how many of our regional monitoring nodes must agree/see a device down before sending an alert.  1 means any single monitoring node will send an alert, 2 means that at least 2 monitoring nodes must agree to send an alert.
Alert Frequency:  Maximum alerting will send every UP/DOWN message immediately as it is received from the regional monitoring node.  This means if 2 nodes agree that your site is unreachable, you will receive an alert from each of them.  Minimum alerting will group alerts into fewer messages in order to reduce the number of messages sent.  NOTE: With minimum alerting, if you receive SMS messages, they may be truncated.
Available Users:  This is a list of User accounts you can choose to place onto the Alert List.  To add a User to the list, select the desired User and press the "Add" button.
Alert List Users:  This is the current Alert List.  To remove a User from the Alert List, select the desired User and press the "Remove" button.
Press the "Save" button to save any changes you've made to your Alert List.