There is plenty of evidence that businesses large and small are adopting a multicloud strategy. Case in point is a white paper produced by IDC entitled "Adopting Multicloud — A Fact-Based Blueprint for Reducing Enterprise Business Risks". IDC is a global provider of market intelligence about IT and telecom. The report tells us that the use of multicloud has increasingly become the new norm for organizations large and small. And IDC has the numbers to prove it.
Why Use Multicloud?
The paper is based on a 2017 survey of 8,188 business executives with influence on IT decision-making. IDC interviewed leaders around the world regarding their cloud use and strategy and asked them about the drivers for multicloud adoption. Cloud adoption had reached 78% at the time of the survey. Not only that, IDC also found that use of multiple cloud vendors is fast becoming the only way to stay competitive in a tight market.
Use of multiple cloud vendors is fast becoming the only way to stay competitive in a tight market.
One reason is that not every cloud is the same. There are different stacks for different tasks. The same company may want to go to Google Cloud or IBM Cloud for artificial intelligence, AWS for serverless computing, and Salesforce for SaaS. IDC also cites the need for specialized cloud services depending on industry, such as AWS GovCloud for government or athenahealth for healthcare cloud services.
Another reason for multicloud adoption is that technology decision-making has become dispersed throughout the organization.  It used to be that IT departments worked with managers to make all decisions on the purchase of IT services. Now everybody has gotten into the act. These days procurement of cloud services may be done by any department in the company without consulting anyone in the IT department. The white paper authors say that there has been a proliferation of roles, and anyone from front-line business managers to DevOps engineers might have the responsibility for buying cloud services.
And organizations continue to invest in private cloud infrastructure. For security and compliance reasons, maintaining a private cloud continues to make sense. So in addition to the various public cloud services that a company might procure, in-house private clouds remain part of the mix.
The design of a multicloud environment is ultimately determined by the needs of the organization. And what does an organization need? It boils down to the same things that are important in any IT infrastructure:  availability, security, and performance.
What Are Multiclouds Used For?
That is a fairly open question that could have a host of possible answers. Of course, how cloud computing resources are designed and allocated never follows a cookie-cutter methodology. Every business has its own way of doing things, and the cloud is so flexible that the choices are myriad. We'll use the question to highlight some of the primary use cases involved in a multicloud strategy.
Standard IT services may be handled differently. Email has been around for some time and is probably not going away soon. Some companies may choose to keep it on their private cloud, in their private data center. Others may trust an online email provider, or they might migrate the service to public cloud servers. Personal productivity, such as word processing and spreadsheets, can easily be moved to the public cloud, along with enterprise social networks.
Critical data, such as that contained in enterprise resource planning (ERP), database management systems (DBMS), and supply chain logistics, might be maintained on the private cloud because of its sensitivity. Still other applications, like customer relationship management (CRM) or testing and development programs, may be integrated into a hybrid cloud infrastructure.
IDC says 56% of respondents use the cloud to enable innovation.
Whatever the use case, organizations are looking for noticeable benefits from their multicloud environment. IDC says that 56% of respondents use the cloud to enable innovation. Increased business agility is expected by 50% of cloud adopters. Time to market is on the minds of 37% of those surveyed. And the implementation of complex solutions like containers and microservices are also important to businesses.
Moving to the Multicloud
Included in the IDC white paper is a pair of lists that delineate strategies and levels related to cloud adoption. In their section called "The Five Cloud Strategies", the authors cover these points:
Lift and shift
Redevelop
Replatform
Hosted SaaS-delivered applications
Outsourced IT capabilities
The gist of these strategies is that there are different drivers that influence multicloud adoption. Lift and shift has to do with moving a legacy application to a new environment. Redevelop and replatform are other nuances of migration to the cloud. Basically what they are saying is that every workload is handled differently. Here is how the authors framed it:
"Every application allows different levels of workload portability, security, governance, risk, compute and infrastructure, network, and application management, design, and deployment capabilities."
Cloud computing is both complex and varied. Strategies for multicloud adoption are different because the applications are different. If one form of cloud implementation or one cloud provider could adequately satisfy all the requirements of all of an organization's applications, you can be sure that they would use it. But that is definitely not the case.
It's important to note here that the level of cloud adoption is not the same for everyone. Moving to a multicloud is not an either/or situation. There are different levels of cloud adoption, as described by IDC:
Ad hoc
Opportunistic
Repeatable
Managed
Optimized
The writers use this list as points on a continuum between immature and mature cloud adoption. When a company takes an ad hoc approach to the cloud, they are still far away from the level of organizations that have fully managed or optimized their cloud strategies.
A mature and well-integrated multicloud environment is one that takes into consideration reliability as well as function. As we at Total Uptime are fond of reminding you, it does no good to have all the bells and whistles if your network is down and your applications are unreachable. Don't forget about uptime in your rush to multicloud adoption.
On a Higher Plane
Simply moving to the cloud does not guarantee anything. But those companies that have reached cloud maturity are more capable of mastering the complexities involved in the latest technologies. As IDC puts it, "The most mature cloud adopters are nearly twice as likely to support IoT and other real-time initiatives through an event-driven architecture."
Picture the process to cloud maturity as steps to a higher plane of multicloud existence. IDC makes their cloud adoption maturity model clear in the illustration below.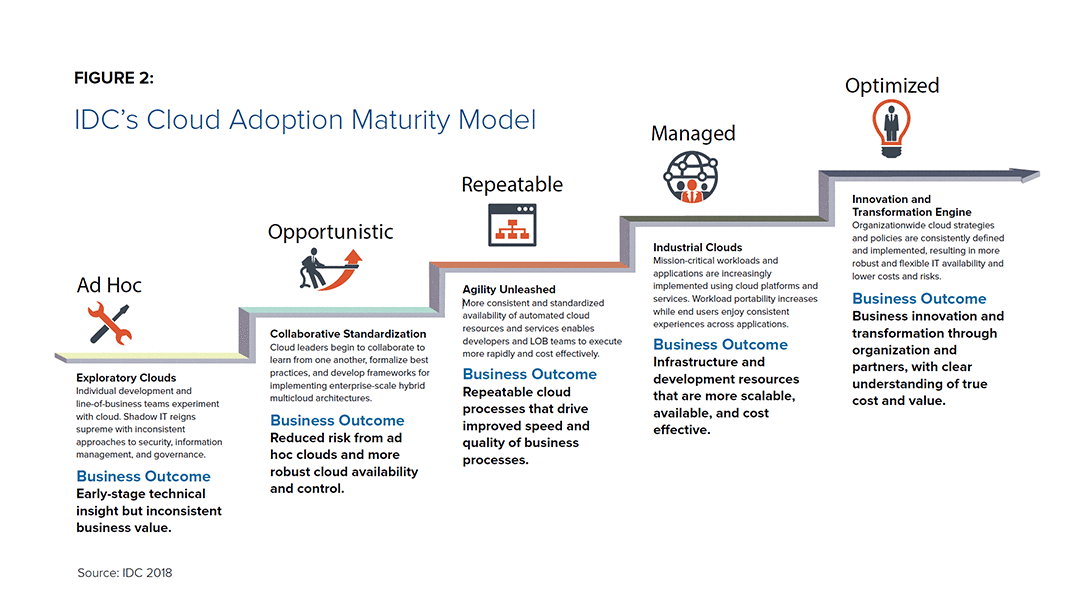 This move toward a more mature cloud results in significant KPI improvements and greater benefits from containers, microservices, and IoT capabilities, according to IDC. 97% of those at the managed or optimized levels of cloud adoption reported support of IoT initiatives, as opposed to 53% of other cloud adopters. But only 44% of organizations have repeatable, managed, or optimized cloud strategies.
The bottom line is that companies with more mature clouds are making more money. You can see that in IDC's graph explaining an organization's annual benefit per cloud-based application.

Conclusion
As of 2017, 78% of organizations had moved to the cloud, an increase of 15% over the previous year. The study showed that 58% of respondents work with at least four cloud providers, and 15% of them already use 10 or more. But as IDC's white paper shows, signing up with these cloud companies does not mean that you are taking advantage of all they have to offer, or using them wisely. Along with multicloud adoption, a push toward cloud maturity is needed for an organization to optimize their widely dispersed applications in this new and dynamic global IT infrastructure.