Digital Realty / Telx Atlanta Power Outage
On July 12th a major power event occurred at the prominent carrier hotel at 56 Marietta Street responsible for network interconnections for a significant portion of the southeast including over 60 carriers and over 100 telecom providers. The incident occurred during planned power distribution upgrades and created quite a number of issues for both regional and national organizations.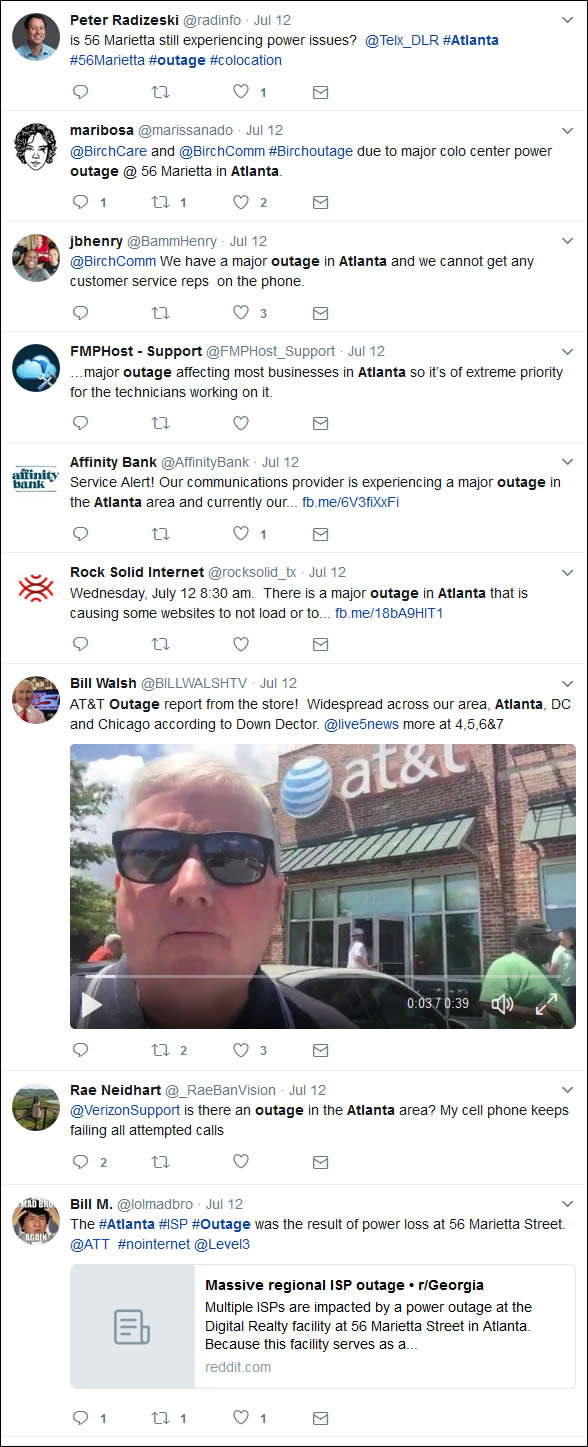 Digital Realty, the owner of the building which it acquired from Telx a number of years ago, released the following statements direct to customers, but made no mention of the incident on Twitter where they typically post multiple times per day:
During scheduled maintenance, the engineering team at 56 Marietta reports that the generator failed resulting in a loss of critical IT load to equipment in the space. The site team is investigating the source of the issue and scope of the impact. Further updates will be provided as additional information becomes available.
As an update to the Generator failure at 56 Marietta, the engineering team reports that power has been restored and all power systems have been normalized. A RFO, that will outline the root cause as well as the scope of the event, will be published. Further updates will be provided as they become available.
Several customers on a popular outage list noted that both their A & B redundant power feeds went down at the same time for both A/C and D/C, proof that even some of the largest and most well funded organizations can suffer significant downtime without the proper protocols, procedures and failsafes in place.
Total Uptime systems detected over 100 client devices unreachable as a result of this event. Those subscribing to our Cloud Load Balancer or DNS Failover Service had their traffic automatically rerouted to alternate locations outside of the area based on customer configurations.