---
Major CenturyLink Network Outage to Close 2018
We end the year with a major CenturyLink outage that started early Thursday morning for many and spread across the country, according to reports on Reddit, GeekWire and Newsweek affecting Internet, 911 services and other internet-dependent services like waves and VoIP. The outage also affected other providers who lease long haul connectivity from them, such as TATA Communications and GTT, to name a couple.
CenturyLink was strangely quiet on the matter as their Twitter feed didn't show the first acknowledgement of the issue until 10 hours in. At 18:28 UTC they posted the first entry below to some customers who were able to communicate with their NOC:
Various posters on Twitter and Reddit who were able to get through to CenturyLink stated reports that reps were unable to access internal systems including ticketing, some telecom and Skype. At Total Uptime, we noticed the largest impacts on the west coast in Santa Clara and Seattle starting at 12:53 AM pacific time. Automation immediately rerouted affected traffic via alternate providers to mitigate any impact for our customers.
This is another confirmation of our previous writing in 4 Cloud Gotchas to Avoid that moving to the cloud does not increase availability whatsoever, especially when you notice CenturyLink's interesting status page (original screenshots below) confirming that the outage was affecting 15 of their 17 External Cloud Network product locations. Wow.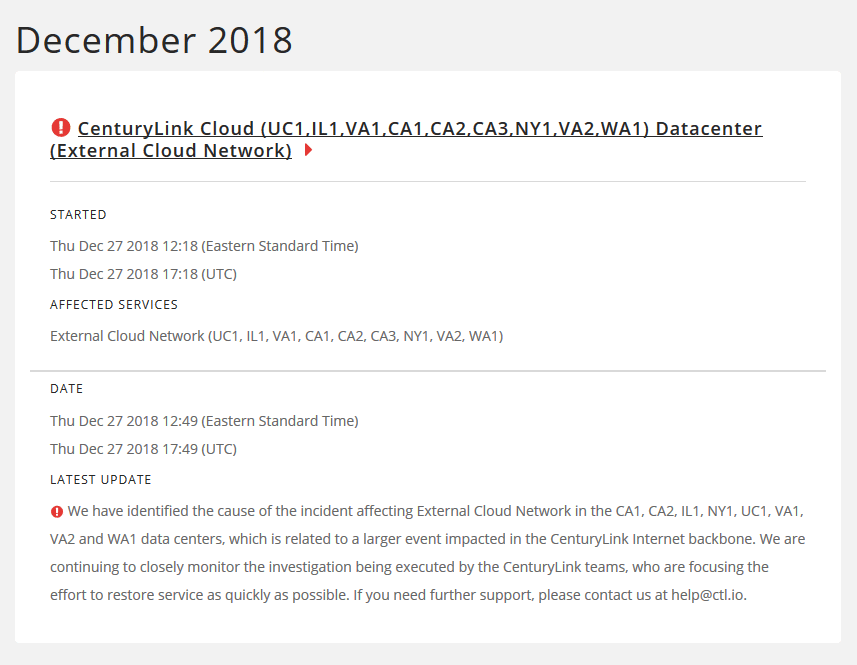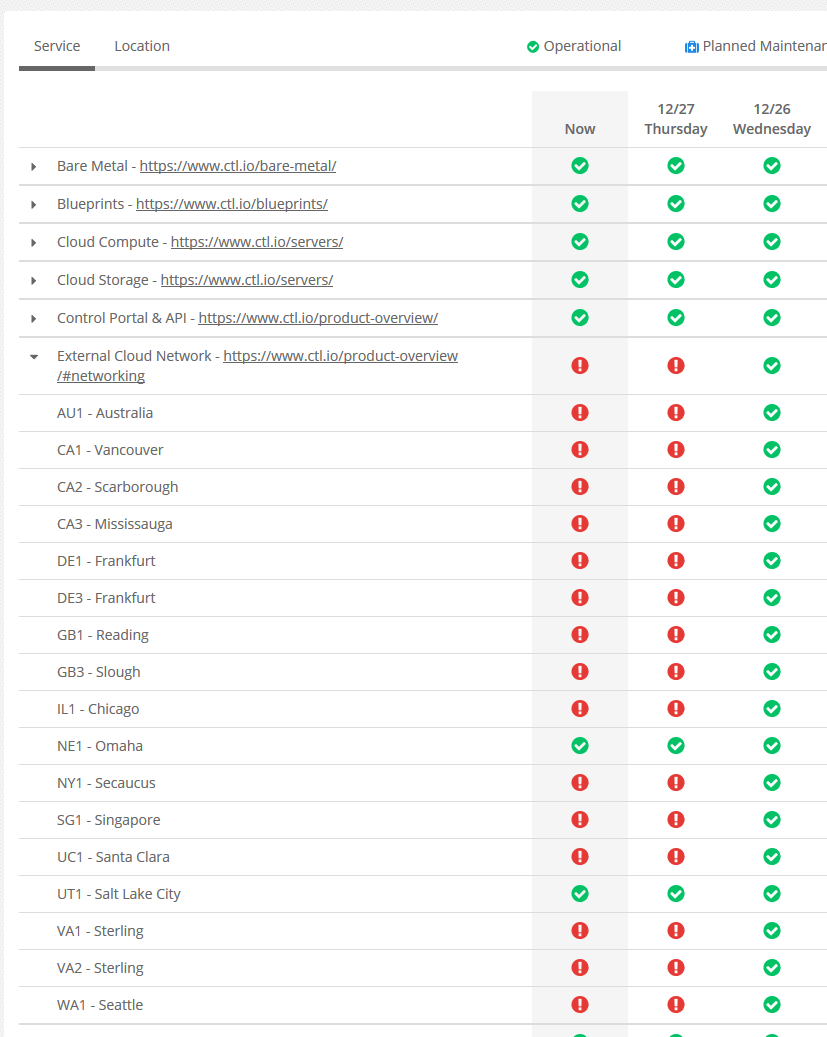 At Total Uptime we lease network capacity from most of the world's largest providers giving us the unique ability to pick and choose routes for our customer traffic that deliver the best availability and performance at any moment. We think remaining data center and provider agnostic is definitely the way to go, especially as people move more and more to the cloud.
Today it is common for every cloud provider to offer load balancing, firewall, DNS, VPN and more, but putting all of your eggs in one basket – especially the network – is rarely the best choice. At Total Uptime, we will always remain independent of every data center, backbone carrier/ISP and network because availability is at our core. We do not offerWithout uptime, nothing else really matters.
If we can help your organization avoid today's exciting CenturyLink related events, just contact us.
---
Other posts you might like...
---