Cloud Availability Platform v18.3.0
Posted on August 27, 2018
August 29, 2018
Today we officially released version 18.3.0 of our cloud platform. In this major version update we simplify Network configuration, increase the robustness of our new UI by squashing over 50 bugs and bring invaluable visualizations to our Web Application Firewall offering.

Web Application Firewall Visualizations
Continuously curious about the what, when, and where of the traffic that your Web Application Firewall Profiles are blocking? You can now see this critical data in aggregate history charts, map, and graphs, as well as the raw Firewall Log data.
Get the most detailed view possible through near-real-time Raw Web Application Firewall logs. These are now available with deep and shallow search and filtering. Search through the last 30 days of Raw WAF logs and filter through result sets of records, up to 10,000 at a time, with lightning fast result set searching and filtering.
These visualizations are all available now for WAF subscribers on the new WAF Log tab, in the Network section. Say hello to real web application security visibility!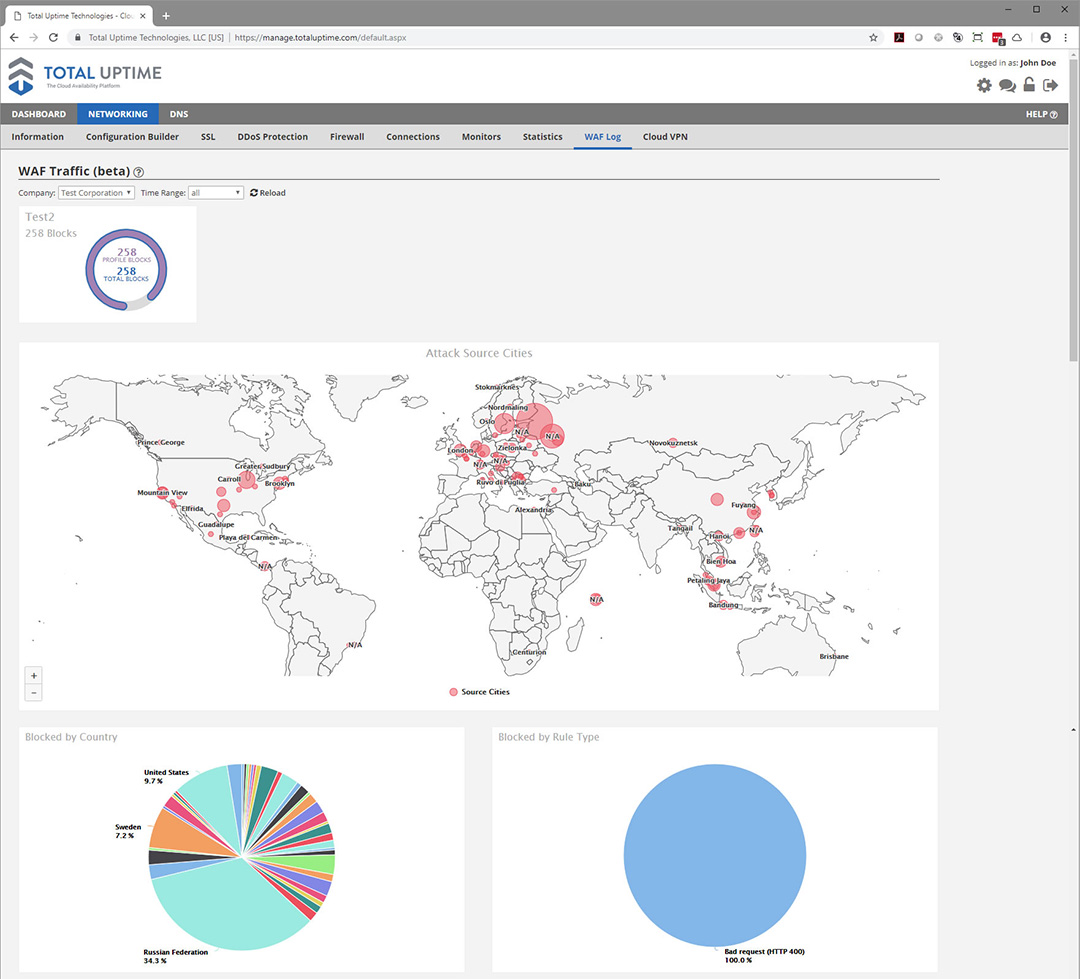 WAF Profile – Black and Log Features: In the Edit WAF Profile screen you can now select Block and/or Log for each Security Check. (Don't forget to watch your Profiles in action on the new WAF Log tab!)

Simplified Network Configuration
Simplified Port Mapping: Now when you go to the configuration builder and go to configure your public to private port mappings you will notice the added convenience of the protocol options for the private ports are automatically filtered to compatible protocol(s) for the public port protocol you have selected.
Add SSL_TCP Port-SSL Options: We added a new feature that allows you to Configure the Back -End SSL options for Public Facing SSL_TCP ports, just as you would an SSL port.
Multiple Servers-Same IP Disallowed: Hey, it happens right? You accidentally add an IP you already have added, ouch! We detect this now and preventing from happening.
Fixed Bug- Med & High Cipher Group Won't Save: There was a time when if you went to Edit Server: SSL Protocol you couldn't save a Med or High Cipher group. We fixed this issue and it works great now!
Add New Server-Default Timeouts: When creating a new server, the "Client Idle Timeout (s)" and "Server Idle Timeout (s)" values now show the default values, simplifying configuration.

Account Changes
IP Addresses tab – Unassign Button: Resellers can now unassign an IP that is not in use from a customer company and return it to their pool of assignable IPs.